Published on September 2020 | Trail done in June 2019
MacRitchie Nature Trail & Reservoir Park

Nature Walks in one of the Worlds most beautiful Country
Singapore
Right in the heart of Singapore is a beautiful nature sanctuary where we can take a deep breath and smell the fresh
air.
MacRitchie Nature Trail & Reservoir Park is a
wonderful place to go for nature walks.
Enjoy diffrent kinds of nature walks in MacRitchie Nature Trail
Happy to launch Walk4Health
third international walking trail in Singapore,
that has well developed infrastructures to fully enjoy nature, without the need to go far from the city center. This
Nature Trail
lets you take a stroll along one of the world's best developed borad walks and tree-top walks, which would make you fall in love with the city.
This nature walk was by far the most memorable and wonderful thing I have done
during my second visit to the country supported by my friend Santharam and Srilatha.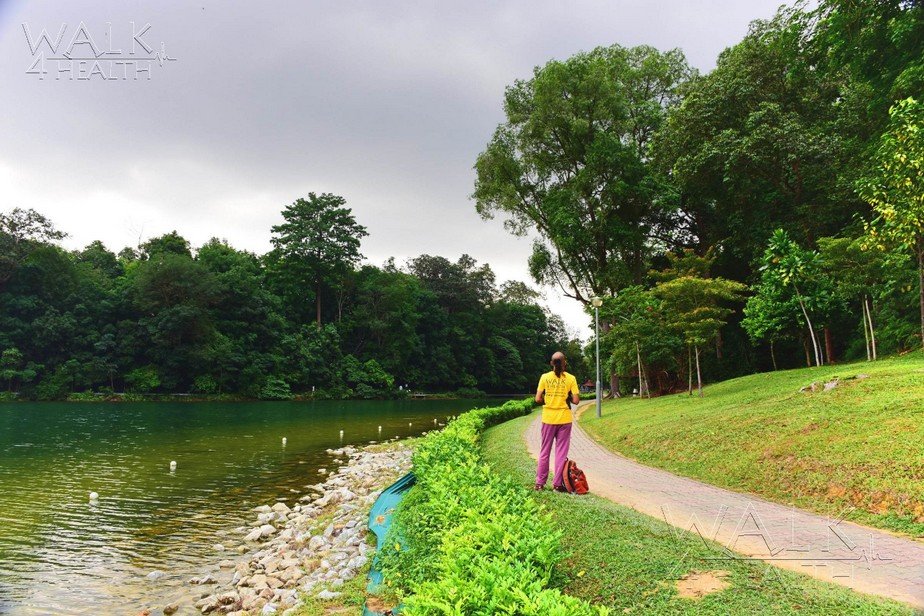 It was such a lovely nature walk so near to the city and yet it feels like you are miles away from the busy city. There are various types of walks starting from 3km to more than 11 km walk including board walks, canopy walks and tree top walk.
Some aspects of the trail is paved, some are boarded and some are dirt track. Many different options to suit fitness level and how far in you want to go.
This place is so amazing! yet one of the most underrated tourist spot, which you do not generally find in the list of Things-to-do in Singapore. Whether you are looking for a short or long walk this place is for you and its a must visit nature trail when you are in Singapore.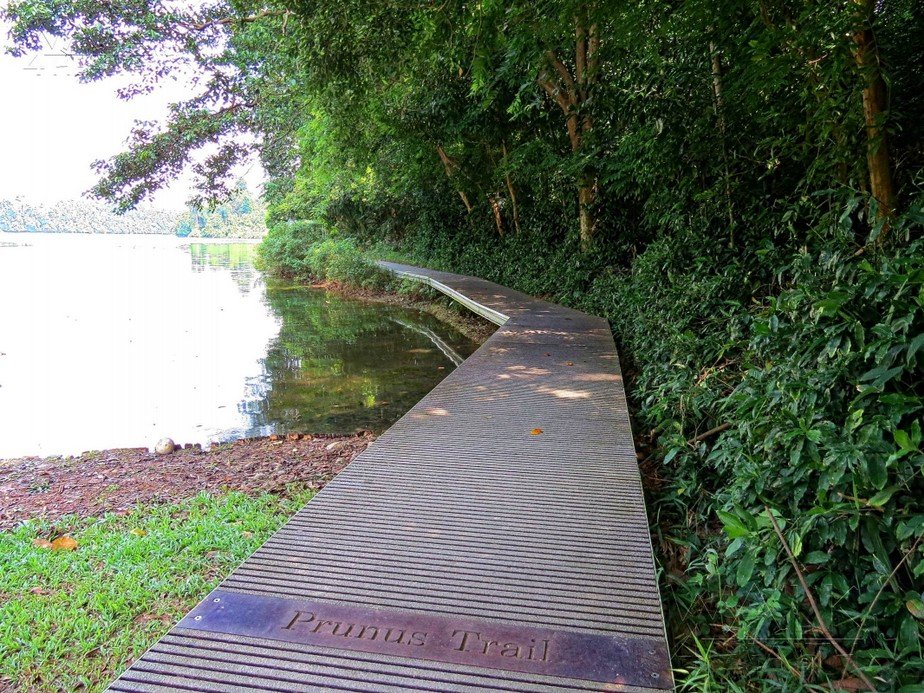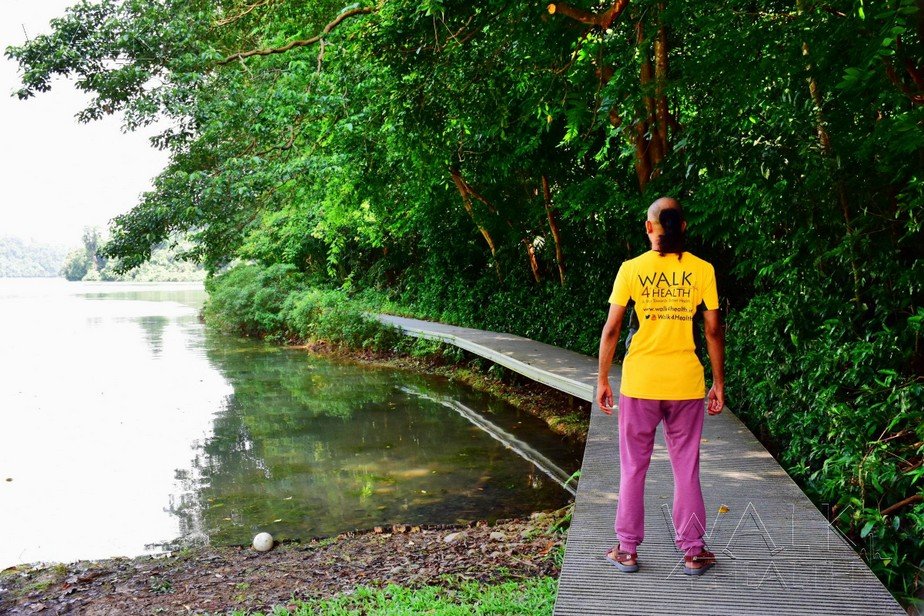 During the trail you will witness more natural side of Singapore and how they have tried to retain some greenery into this amazing city.
We only attempted a small section of the nature trail, on boardwalk and half on dirt track due to time constrain.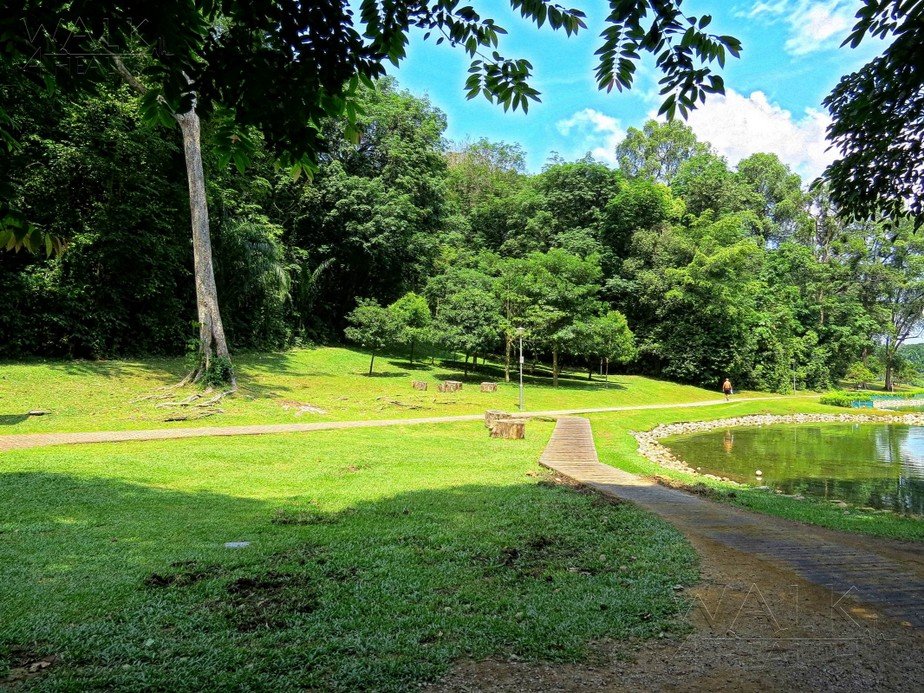 I reccomend to have a good friend to talk with as you move through forest trails and around the lake. Its a great walk but a long one, so be prepared. My trail was
accompanied by my friend Santharam who was taking pictures of my walks and nature together.
One short scenic trail is to walk along the Macritchie Nature trail (which starts quite near to Marymount mrt station) followed by the Petai and Prunus Trails. This round loop took less than an hour. Petai and Prunus trails are actually boardwalks skirting the reservoir.
I loved the walk around this reservoir and the feeling of being in the jungle and the remoteness at times.
Great place to connect with nature.
There are various trail options and access points to choose from. Signs and maps at every intersection offer reassurance that you'll know where you are.
The maps are color coded and labeled with distances and trail names.
MacRitchie Reservoir's myriad attractions makes it a playground of nature for those who love the outdoors.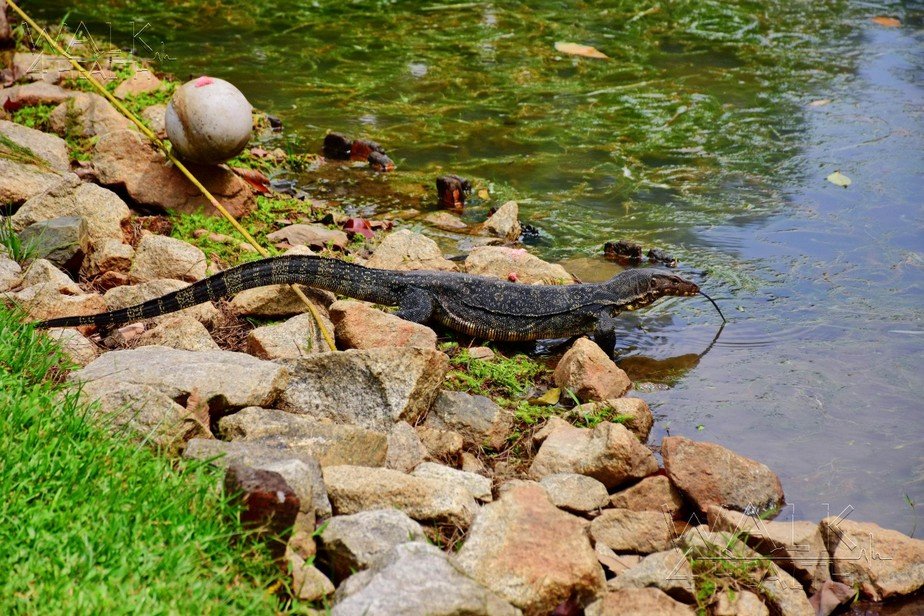 MacRitchie nature trail makes for a calming, evocative jungle escape. Walking trails skirt the water's edge and snake through the mature secondary rainforest spotted with turtles and monitor lizards.
Walking along Petai Trail is like going down a culinary trail. Several plants, like the Forest Beans or the Petai (Parkia speciosa), are edible. Locals eat the seeds of this tree, raw, grilled or blanched. The beans taste like garlic and have a very strong and pervasive odour.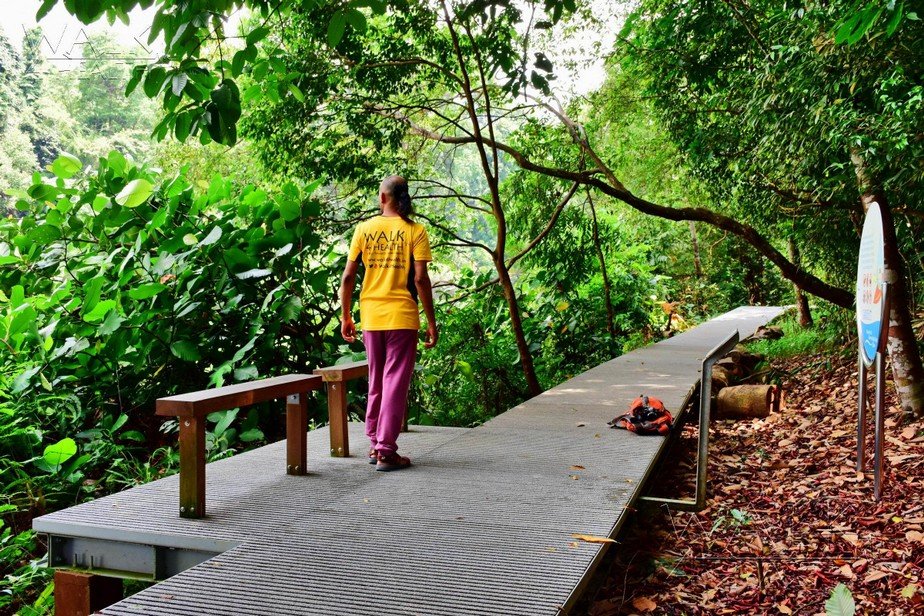 There're plenty of interesting plants and wildlife along this trail, so make sure to keep your eyes peeled.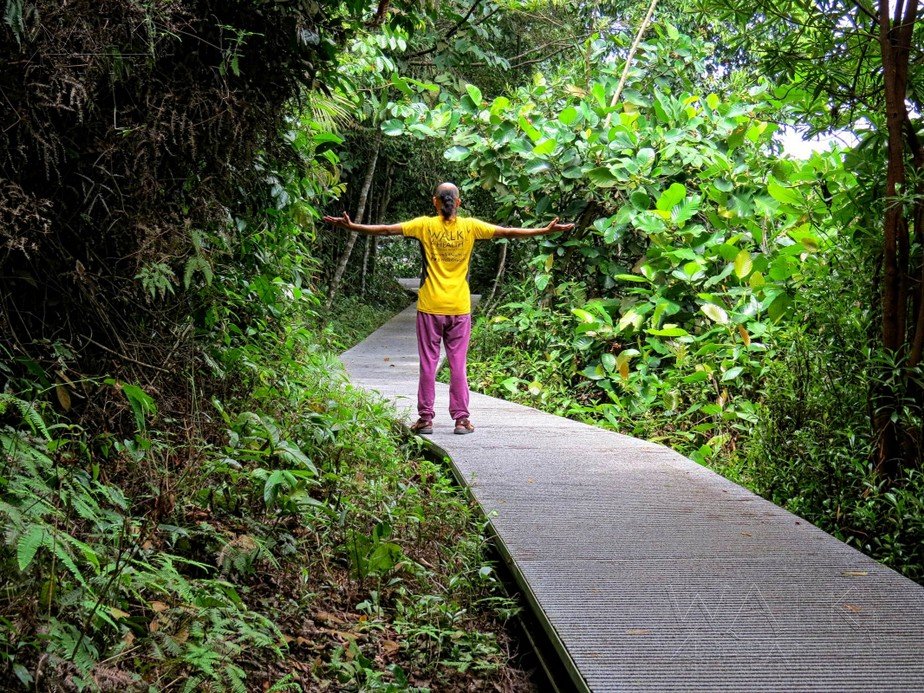 With so many attractions and scenic spots of nature on offer, MacRitchie is an excellent destination for anyone who loves fun and the outdoors.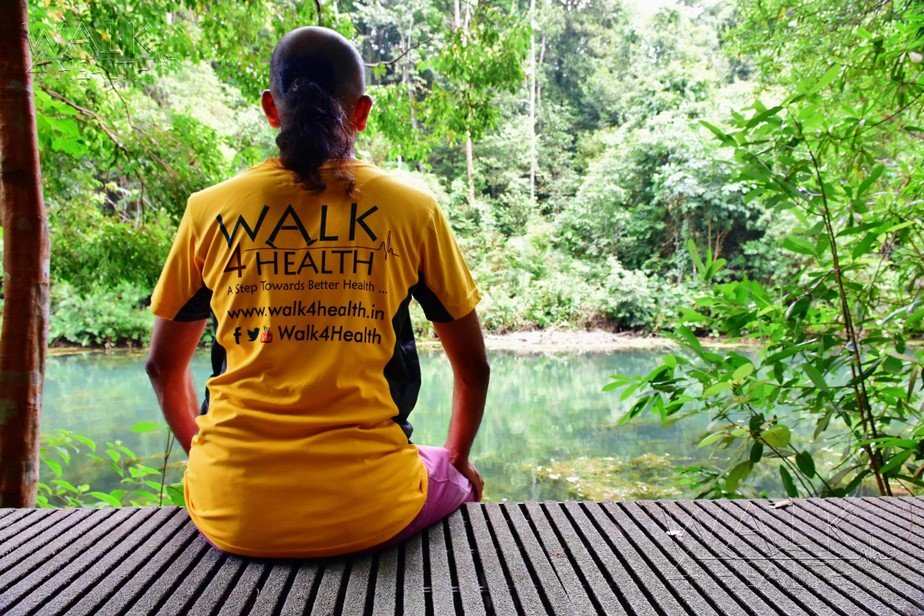 While walking in
MacRitchie nature trail I
enjoyed nature and reloaded with
VitaminN
to
promote Walk4Health.
The boardwalk section is very nice as it hugs the water and with the tree cover it is quite scenic.
The place is very well maintained and preserved forest in the midst of the city, it is rich with variety of flora and fauna.. heaven for nature lovers.
MacRitchie nature walk is one of the few truly jungle trail in Singapore for hiking.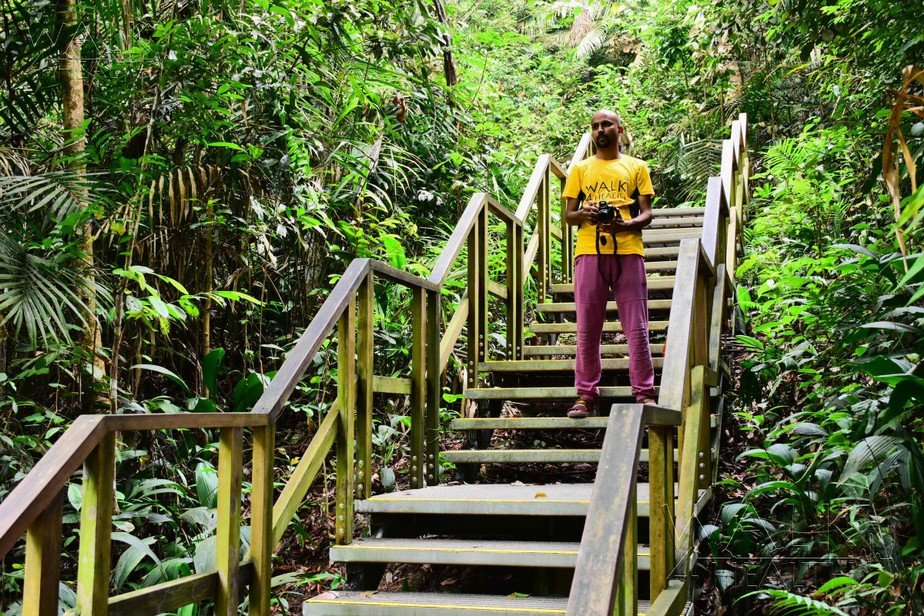 Trails then continue through the forest and around the reservoir, sometimes on dirt tracks, sometimes on wooden boardwalks. It takes three to four hours to complete the main circuit.
Walking with my friend Santhram

made the walk more enjoyable by connecting with nature and capturing nature in one go.
The mirror reflection of the trees on the still water is a scene to behold
The views along the reservoir is breathtaking.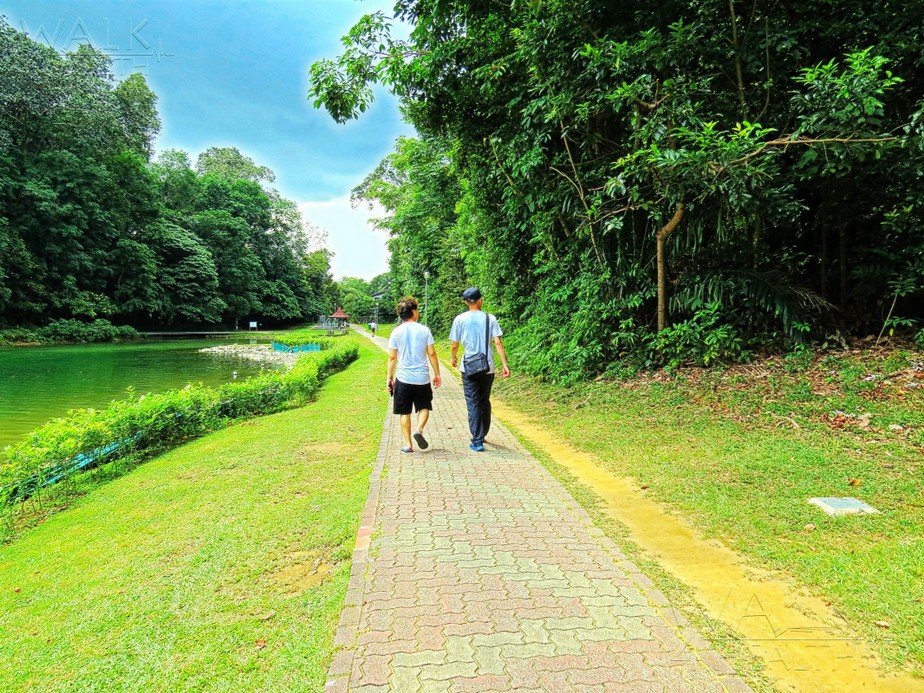 Highly recommended for a dose of exercise and appreciation of nature.
Mushroom Cafe, a fast food & drinks place with sheltered seating with facilities like toilets & drinking water refill point as well.
Water Sports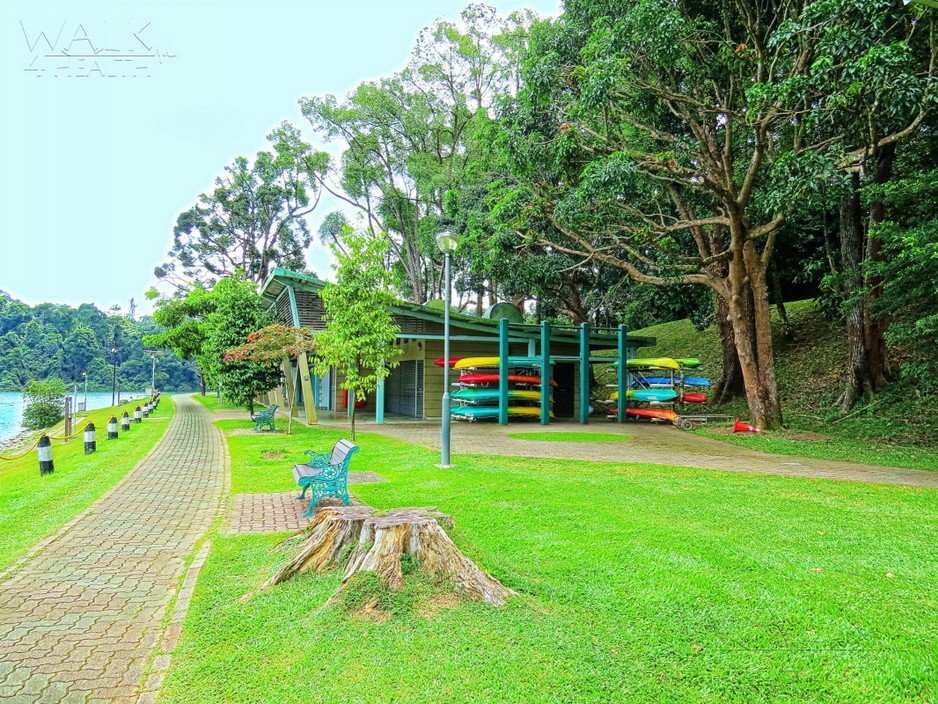 Avid water sports enthusiasts can try their hand at kayaking and canoeing at the reservoir, by visiting Paddle Lodge@Macritchie Reservoir. There is a designated area for beginners, and another one for experienced paddlers.
As a word of advice, w
hen you are in Singapore
g
et your back pack filled with light snacks and water, then head out in your active wear to enjoy a good 4 hour walk around this trail. S
ince Singapore has tropical climate, please carry your umbrella.
MacRitchie Reservoir is Singapore's oldest reservoir and can be seen as the gateway to nature. Today, the reservoir remains popular for a host of leisure and sporting activities like walking, jogging, taichi, cross country, canoeing and kayaking.
Macritchie Nature Trails and their attractions include:

3KM Green Trail – Prunus and Petai Boardwalk
7KM Orange Trail – Quickest route to the Treetop Walk
11KM Yellow Trail – Longest Trail that covers essentially all the park's attraction
Other trails of mid-level length and difficulty include the Purple, Blue and Pink trails.
TreeTop Walk

This free-standing suspension bridge connects the two highest points in MacRitchie and offers a bird's eye view of the plants and animals that live in the forest canopy.
This is a natural reserve know to the locals as a cross country Mecca.
Trek to the Tree Top Walk takes about an hour and a half to two depending on which entry point you start from.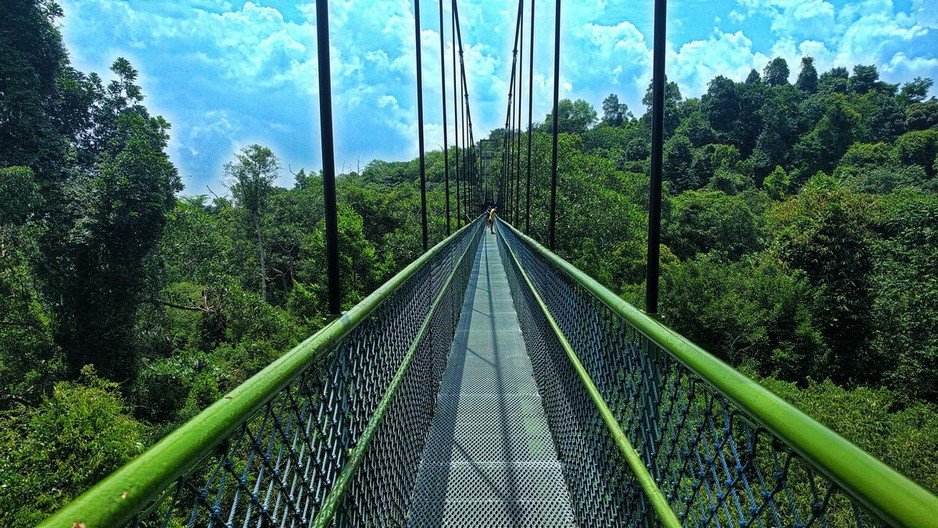 Getting to the TreeTop Walk from the starting point at the Venus Drive car park couldn't be easier. There are signs at every crossing. An alternative for all the hardcore hikers would be to walk the MacRitchie Nature Trail from the Reservoir itself, which is a 4.6 km walk.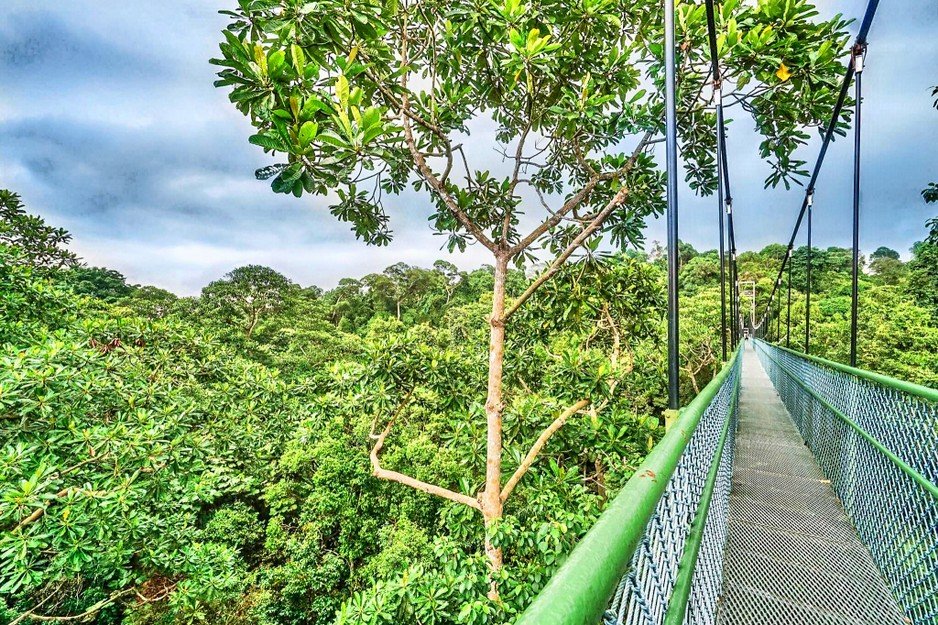 On the 250 meters long suspension bridge you can expect a panoramic view of the rainforest while walking.
Distance: 250 meters for the suspension bridge, 7 km for the whole loop
Length: 3 to 4 hours
Opening Hours: 9am to 5pm (the gate closes at 5pm sharp!)
Tree Top walk opens at 9AM on week days and 8:30AM on weekends.
TreeTop Walk is closed on Mondays for maintenance work.

Entrance Fee: Free
The success of this trip is inviting me to discover more beautiful places to capture nature at its best.
How to Reach:
Bus Services: 52, 74, 93, 130, 132, 156, 157, 162, 162M, 165, 166, 167, 852, 855, 980
I took the MRT to the station nearest to the MacRitchie Reservoir. The walk was great - and nice to get out of the bustling city. Well worth a walk if you have a few days in Singapore.

Timings: Tuesday - Friday: 9:00 AM – 5:00 PM
Saturday, Sunday & Public Holidays: 8.30 AM – 5:00 PM
*Closed on Mondays, except on Public Holidays
Mushroom Café
Type: F&B
Venue: MacRitchie Amenities Centre
Business Hour: Mondays to Sundays, 7.00am to 9.00pm
Tel: 6254 7975
Lavaedge
Type: F&B
Business Hour: Mondays to Fridays: 5.00pm to 10.30pm
Weekends, 11.00am to 10.30pm
Bar: Mondays to Fridays: 5.00pm to 12.00pm
Weekends, 5.00pm to 1.00am
Brunch: Saturdays & Sundays: 11.00am to 4.00pm
Tel: 6353 3220
Note: Visitors are requested not to carry any Plastic Bags or Plastic Bottles for the Walk trail as they pollute the environment.

Welcome to Singapore